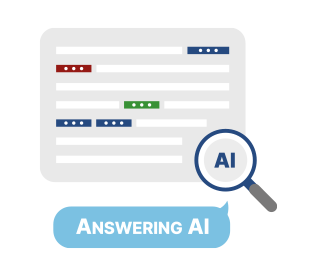 QA42
AI-based QA(Question Answering) solution
Overview
AI-based QA(Question Answering) solution
Through advanced AI technologies such as MRC(Machine Reading Comprehension) and Paraphrasing, we are structuring the vast amount of structured & unstructured documents scattered within the company to provide a single specific answer by semantically understanding the question.
Applying the power of Question Answering we can create knowledge repositories based on historic and captured data.
Solutions based on recommendation and prediction/forecasting could also be achieved using different sets of our technology for personalized experiences.
Faster processes with AI
We're making companies react faster by applying AI to their business processes.
Together we can harness the power of automation inside your company